Having a track day can be lots of fun! Even if you're not a racer, you can use some time on the open track to test the boundaries of your bike or develop riding skills.
Taking your track bike out for a spin helps to have a few things packed to ensure your good time isn't prematurely stopped.
Didn't You Try Our Quote Comparison Tool Yet? Save BIG by Doing it!
Here are the best items to take with you to ensure a great experience is possible.
Get Yourself a Tire Gauge
Tire pressure readings are necessary to ensure your setup is appropriate for the track.
Most locations have vendors or officials who can let you know the best readings to enhance your bike's performance.

If the air pressure is off in your tires, the bike can be too tight or loose for the conditions. It'll be harder to control what you're trying to accomplish.
Find Some Gauntlet Gloves
You'll need some for your next track day when you don't have a pair of these gloves. The best ones should feel comfortable and supportive of your hands while providing the grip needed to pull off the moves you want to try.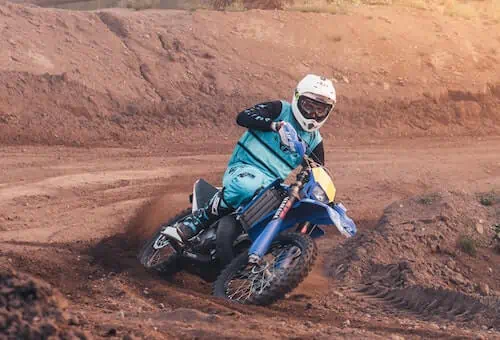 Tire Warmers Are Next Level
Taking your track bike out for a day of riding almost anywhere is fun. When you take a spin on cold tires, the outcomes aren't always what you expect. That's why it helps to have a set of tire warmers to use to get the rubber ready to meet the road.
Even a single set is better than nothing. You can also plan for different conditions, including cold, intermediate, and warm weather track days.
You'll need stands to put the warmers on the bike.
Lap Timers for Racers
Once you experience the fun of a track day, it helps to start collecting data that lets you know where to improve. A timer is the best option to see your progression on the bike. Although a stopwatch is technically usable, the right tool will let you set and know your pace while achieving specific goals.
Tank Grip for the Legs
Track bikes force you to engage your core to maximize control and speed. When hanging off a turn, this essential item lets you stay in control while taking pressure off the handlebars. It takes a little time to get the technique right, but that's why you're head out there!
Insurance
Proper track day insurance coverage is always advisable if you want some financial safeguarding.
A track day is lots of fun when you have all the proper essentials for the experience you want to create for yourself. Grab these items, bring a few snacks, and be prepared to have a great time!
Use This Tool for Free and Save on Quotes!